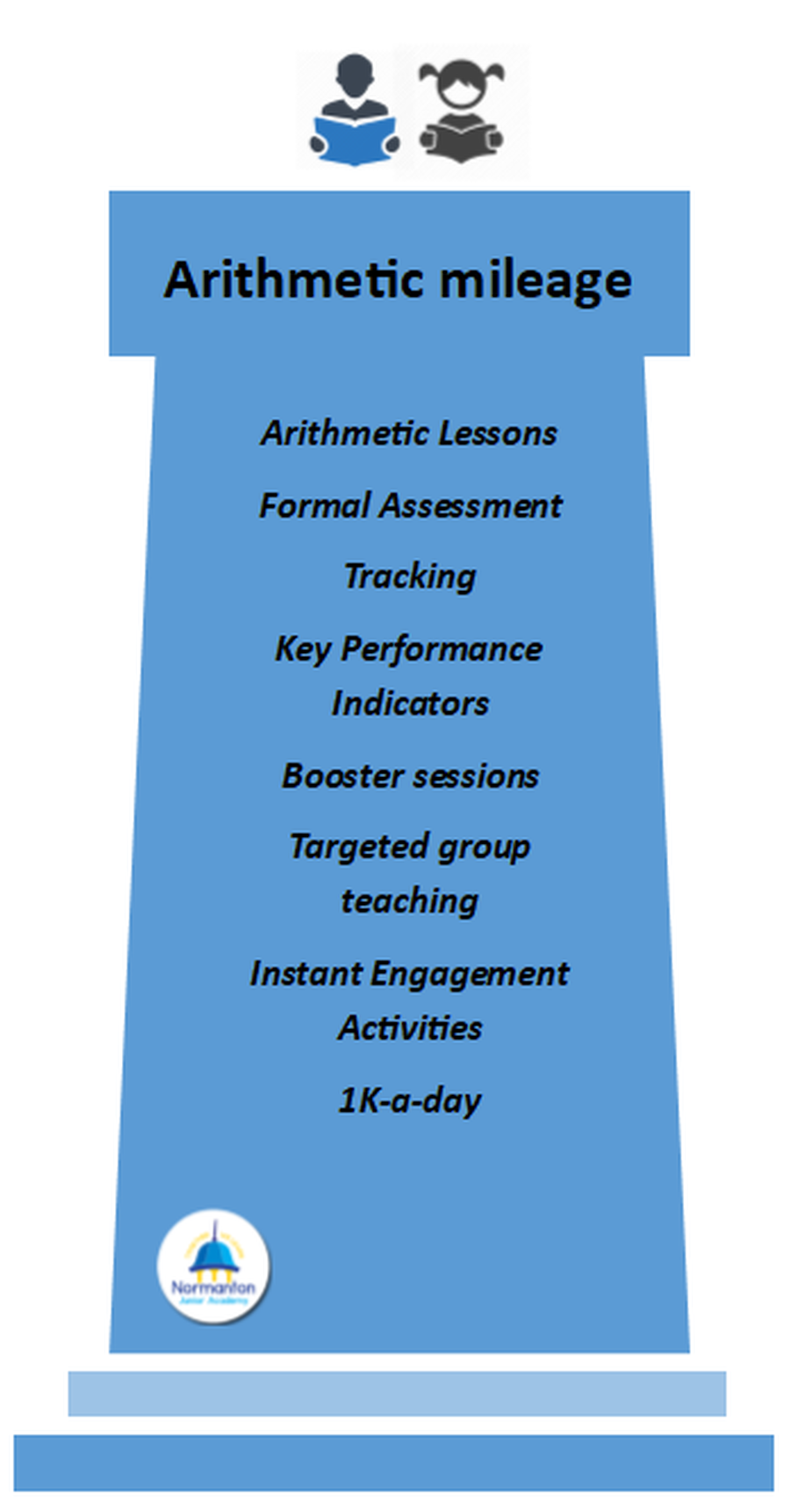 Arithmetic Lessons
Weekly arithmetic sessions have been introduced to give children the arithmetic mileage needed in order to problem solve and reason in different contexts. These arithmetic lessons revise and revisit arithmetic skills from the previous band, whilst introducing new concepts. The whole-school follows the same approach during a Monday session.
Formal Assessment
Termly, arithmetic is tested formally across the school with the maths lead and data lead holding teachers accountable for progress and attainment. Arithmetic is tracked as part of the school's formal tracking system. This supports teachers to identify target groups and inform arithmetic planning.
Tracking
Children's arithmetic records, placed in maths books, supports teacher tracking weekly. This is then used to inform planning and next steps.
Key Performance Indicators
Children are all expected to have achieved the school's Arithmetic Key Performance Indicators by the end of the year. These KPI's form the basis of arithmetic lessons and assessments. Each KPI builds on the previous bands learning.
Booster Sessions
Higher Level Teaching Assistants (HLTAs) and class teachers hold booster sessions for upper KS2 to secure fundamental arithmetic knowledge of the KPIs for identified groups. These groups are identified from the formal tracking systems in place.
Targeted Group Teaching
To close the gap 'Lower Middle' prior attainers in Y6 and Y3 are targeted by a further class teacher, who primarily focuses on ensuring children gain the KPI's at age related expectation in arithmetic.
Instant Engagement Activities
Daily, children are given the opportunity to practice and embed arithmetic skills through instant engagement tasks during registration.
1K-a-day
During the 1K-a-day, children are given opportunities to practice key arithmetic skills, as part of an initiative supported by the PE lead