Reading at Normanton Junior Academy
The importance of literacy has never been greater. To be literate is to be on the pathway to becoming a lifelong learner; it is difficult, if not impossible, to reach one's potential without being able to read. Stories allow us to define our world and discover our place in it. They help us understand the world we live in, teach us about where we came from, and help us see possible futures. To read and understand what one has read is to gain independence and freedom, to be able to fully experience democracy, to open our eyes to those different to us, leading to greater tolerance and mutual respect. Developing strong literacy skills within young people opens up opportunities for them and improves their life chances, increasing social mobility and removing barriers to success.
The 5 pillars of reading at Normanton Junior Academy are how we attempt to instil these skills in the children we have the good fortune to teach, aiming to give every child possible the skills they need to prepare them for the next stage of their education and beyond.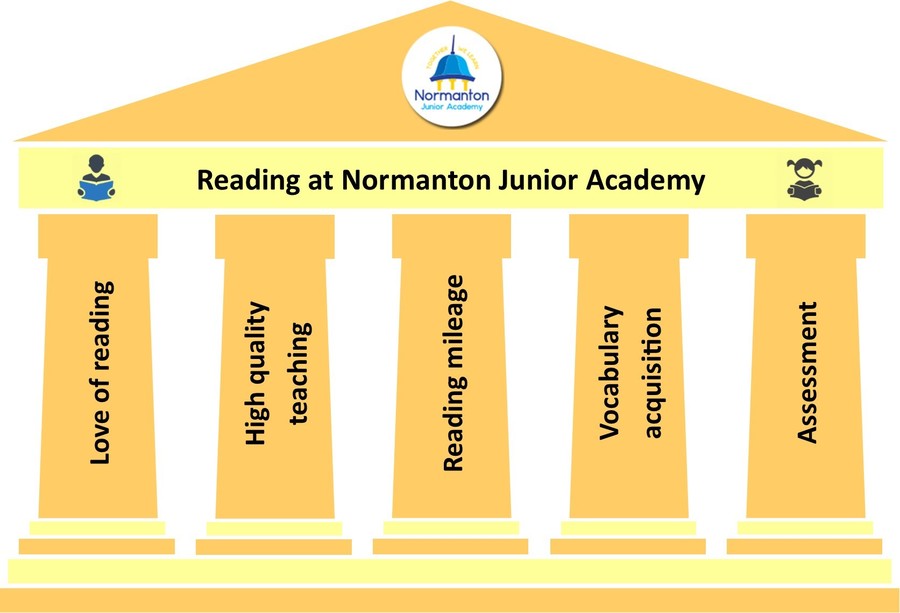 Click on any of the pillar headings below for more details:
It is only if children love reading that they will reach their true potential, appreciating an author's turn of phrase, inferring a character's motive, and building a wide and rich vocabulary.
In order for pupils to reach their full potential, teaching must focus on the skills required to take each pupil to the next level, using strong subject knowledge to bring the different strands of reading together for the maximum impact.
Reading frequently develops the fluency a child needs to access and comprehend age-related texts.
Exposing all children to a rich vocabulary is vital in allowing them to fully comprehend the world around them. Doing so through the teaching of reading is particularly important for those children who do not benefit from this at home.
Accurate assessment is imperative for delivering focused teaching by informing planning, and enables the effectiveness of provision to be measured.
How the 5 pillars interact with each other: