Attendance
At Normanton Junior Academy we place great value on excellent attendance. Excellent attendance at school is important to allow a child or young person to fulfill their potential. To recognise this, we have a number of individual and class incentives to ensure attendance is as high as possible, hopefully exceeding our target of 96.2%. Our attendance has increased year-on-year for 6 years, with attendance at the end of the Autumn term 2017 reaching 96.0%.
Below are graphs showing how our attendance and persistent absence rate have both improved over time: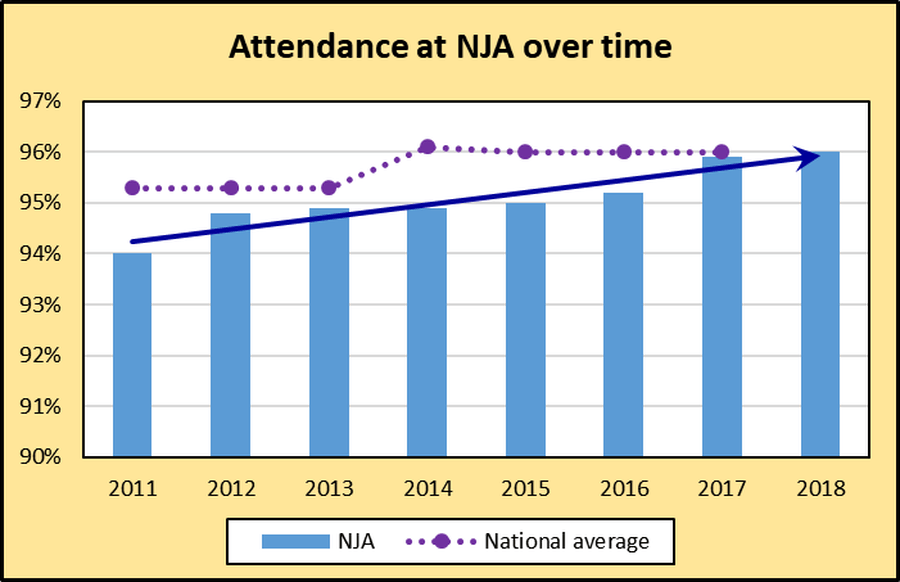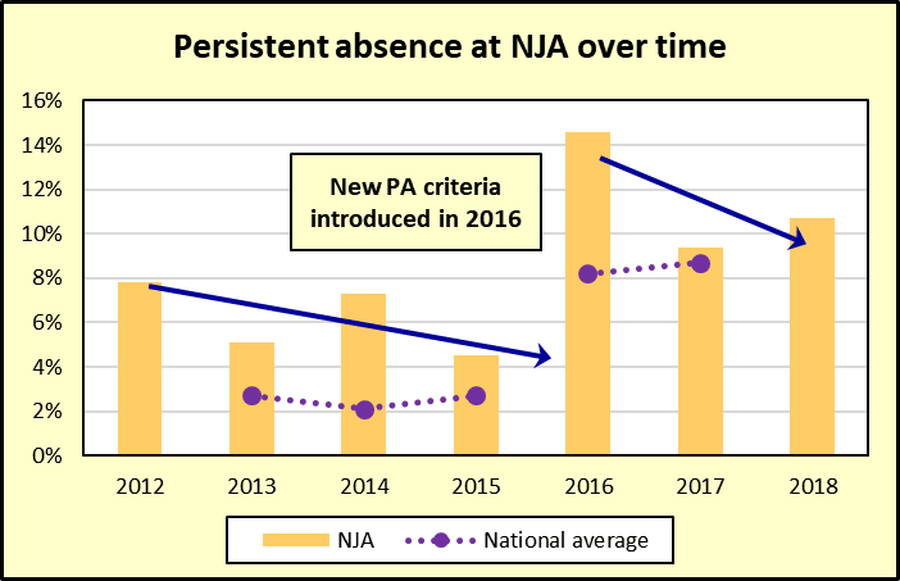 Current attendance figures
Attendance currently stands at: 96.5% (as of 11th January 2019)
Attendance is comfortably above the national average (95.8%) at present and up 0.7% on last year!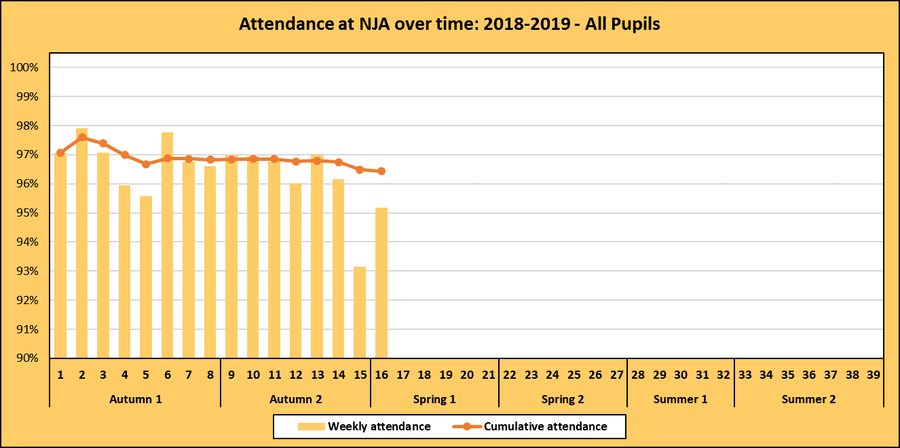 Attendance tracking information for parents/carers
Class Incentives
The class who receives the highest attendance for any particular week will have the opportunity to come to school in non-uniform the following Friday.
The class who achieve their attendance target the greatest number of weeks over the year will be rewarded with an extra school visit free of charge!
Individual Incentives
In addition to the incentives listed above, there are two prizes of £100 to spend at Xscape, Castleford to be won every term! Every time a pupil achieves 100% attendance for a week, their name is entered into the prize draw. At the end of the term, the name of two lucky pupils, one from lower school and one from upper school, are chosen at random, and their family receive the £100 voucher. Remember, each week is another chance to enter the draw!
Winners this year:
Autumn (upper school) - Kyle (6NY)
Autumn (lower school) - Elliot (4HL)
Expected Periods Off School For Sickness
Below is a table of some of the most common illnesses which can occur in schools and the expected periods which your child should remain absent from school if they contract them (source: DfE Infection Control in Schools).
Infection/Complaint

Recommended Period To Be Kept Away

From School/Nursery/Childminders

Comments

Tonsillitis

None

Many causes, most cases due to virus and do not need antibiotics.

Conjunctivitis

None

If an outbreak occurs, the school need to refer to their local PHE (Public Health England) Centre.

Scabies

Child can return to school after first treatment.

Household and close contacts require treatment.

Head Lice

None

Treatment is recommended in cases only where live lice have been seen.

Hand, Foot and Mouth

None

Exclusion only considered if a large number of pupils contract.

Sickness and Diarrhoea

48 hours after last period of vomiting.

Measles

4 days from the outset of rash.

Preventable by vaccination (MMR x 2)

Chicken Pox

Until all vesicles have crusted over.

Period Pains

None

Best kept mobile with gentle exercise, pain killers and heat pads.

Scarlet Fever

Child can return after antibiotic treatment starts.

Antibiotic treatment is recommended for the infected child.

Impetigo

Until lesions are crusted/healed or 48 hours after antibiotic treatment.

Antibiotic treatment speeds healing and reduces the infectious period.

Slapped Cheeck/Fifth Disease/

Parvovirus B19

None (once rash has developed)

Warts & Verrucae

None

Verrucae should be covered in swimming pools, gymnasiums and changing rooms.